The DX-120 Business Communications System is designed to give smaller enterprises all the sophisticated communications features of big-company systems in an affordable, easy to use and scalable package. The DX-120 System includes a family of desktop and cordless speakerphone endpoints and a comprehensive feature set of nearly 200 functions previously available only on high-end PBXs, including powerful voicemail and auto-attendant options. It supports both T1/ISDN-PRI and analog trunking, conferencing, powerful voicemail and auto-attendant options and remote configuration.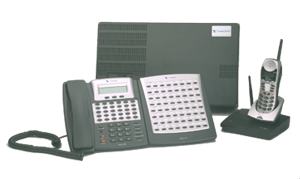 Features of the DX-120
The basic DX-120 system delivers nearly 200 powerful communications features right out of the box, giving your organization a jump start on the competition. A sampling includes:
Built In Caller ID
Uniform Call Distribution
Meet-Me-Conferencing
Tenant Service
Fax Detection
SMDR
Music on Hold
Paging Interface
Door Phone Interface
Corporate Office VoiceMail
SPECIFY WITH CONFIDENCE
The interactive LCD, speakerphone and
built-in Caller ID put you in control of your business communications. You get nearly 200 time-saving features. Some feature highlights include:
Interactive LCD: Displays critical information, including Caller ID, call status and message waiting status. Three softkeys below the LCD screen allow you to select from a displayed menu of calling and configuration options.
30 Button Programmability: The 30 red/green dual-color LED buttons can be programmed to do customized tasks that meet your personal needs. For example, you can program a button to dial favorite extensions, access speed-dial numbers, page a colleague, park a call, or let you take a breather with "Do Not Disturb" mode and much more — all with a single push. You can also program a button to function as a Call Key, which will provide status for a pool of CO lines, to aid in multiple call handling.
Busy Off Hook Voice Announce: The DX-120 can make sure that important calls get through by making an announcement over the speakerphone — even if you're already on another call.
Connections, Connections: A headset jack makes life easier for professionals who depend on constant communication.
Interactive LCD
FULL-FEATURED CORLDESS PHONE
Would the efficiency of your staff or colleagues be enhanced if they could freely carry their feature-rich DX-80 speakerphone throughout the office or facility — and still enjoy all of its advanced calling features? Now they can! Customer satisfaction soars with the DX-120 Cordless Speakerphone because attendants, warehouse and production personnel, roving employees, technical support professionals, and retail representatives can freely move about a warehouse or an office to check files, confirm inventory or report on the status of a project while keeping the caller on the line. Now your personnel can respond to business issues with a level of efficiency that will differentiate your business from the competition.